The SafeGuard is a fully digital, closed loop, integrated system controlled by a Motorola Micro Processor. The SafeGuard also includes a H/O ignition amplifier and an adjustable velvet touch REV limiter - all in one self contained, compact box.
The knock retard system is beautiful. It has the ability to retard ONLY the offending cylinder(s) that cause the knock. It does not retard the baseline ignition setting on all cylinders. Only the ones that require it. This can add significant torque to an otherwise 'retarded' engine. Limited Dyno tests have shown an improvement of 15%. Actual road tests with different cars have shown a 30% improvement. With individual timing control, you will decrease your fuel consumption, lower engine temperatures and promote engine longevity. The system uses a closed-loop digital circuit, micro-processor control and a custom algorithm to identify and process knock.
The SafeGuard can be triggered by any ignition system. Stock (points), magnetic, reluctor, LED, etc. If needed, it can also drive any aftermarket system, such as MSD, Crane, Capacitive Discharge and similar units. We have found, that in most cases, this is not necessary because the SafeGuard has a built in ignition amplifier which and will output 7 amps of current. Compared to G.M.'s H.E.I system the SafeGuard boasts a 62% increase in coil output over the GM HEI system.
Included with the SafeGuard's built in ignition amplifier is a feature called active dwell control. Active dwell control is a very powerful means to add a significant increase to the output of the coil. With active dwell control the SafeGuard is constantly monitoring the coil output and actively varying the dwell for maximum coil saturation. The MSD does not have active dwell control, nor do most other ignition systems.
The built-in digital REV limiter is 'velvet touch' and is fully adjustable, on the car - you can make changes while the engine is running. No plug-in modules to buy or fall out during use.
The SafeGuard will side-step all the mumbo-jumbo of proper timing, etc. and keep your engine running at perfect performance. It installs simply between the points and the coil. Only four wires to connect the unit: two grounds, one hot lead, the points lead. One wire to connect the input from the knock sensor. That is it. A little of adjusting for sensitivity and you are set. It could not be easier. You will love it.
The SafeGuard is one integrated, fully designed package. You do not need a bunch of 'other' boxes hanging around your engine compartment. And you do not have to worry about 'compatibility' of the boxes interfacing with each other.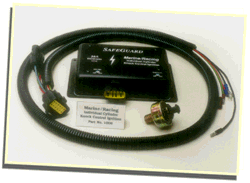 The SafeGuard Marine/Racing Kit
Is the SafeGuard expensive? You be the judge. If you add up what you get with the SafeGuard, and compare it to what you would have to spend piece meal on other systems, it looks like this:
| | |
| --- | --- |
| Electronic Ignition system: | $100 to $495 (depending on the manufacture) |
| Rev. Limiter: | $140 to $225 (some are not adjustable w/o added costs) |
| Knock retard: | $250 to $1,110 (no other system has cylinder control, and/or are not a closed loop micro-processor controlled) |
| Total: | $490 to $1830 (cost of other products to do some of what the Safeguard does) |

The investment in a SafeGuard unit is $730.00. Each unit is built to order and custom programmed for its specific application. These are built specific for Corvair installation. Please allow 3-4 weeks for building you SafeGuard. Satisfaction is fully guaranteed. Units available for other engines; please inquire.
You may also be interested in a monitor display that is available for the SafeGuard. The new 2 1/16" round dual monitor is machined from billet aluminum and black anodized. A Ten segment red LED bargraph display shows amount of retard, and thus gives an quick, visual indication of the engine's tendency to knock at any particular time. The Air / Fuel portion of the display uses 10 LEDs also; 3 Red, 4 Yellow and 3 Green. A great feature of this dual monitor is the dual mode switch. It is the first A/F display available to feature a dual mode switch. This switch, on the front of the display, expands the A/F display along the sweet spot to further enhance the usable display while tuning in critical the power mode.
The monitor is driven by the SafeGuard to which it attaches with a supplied, standard 1/8" jack. A built-in light sensor dims the display automatically at night. To drive the A/F portion of the dual monitor display you will need a standard 02 sensor which is available for your specific application.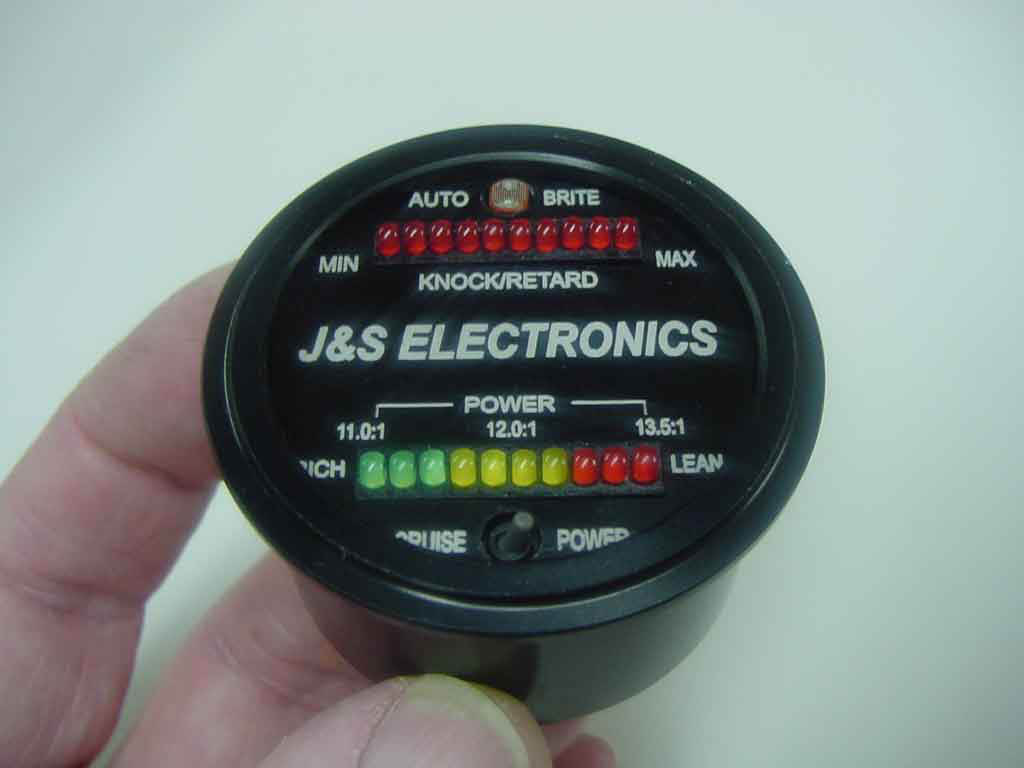 Billet Aluminum
Dual Monitor
The dual monitor is what I use when I tune engines. It is such a big help to run the engine, on the road, under load and see just what it is doing. This makes selecting the proper jet sizes for maximum engine performance and economy a snap. I use to spend days tuning a turbo carb, now, a few hours. Both units have a automatic brightness control - adjusts for the ambient light conditions.
The monitor also serve as a diagnostics link with the SafeGuard. During startup the SafeGuard runs an internal diagnostics test and the results codes are displayed on the monitor. This graphically shows that your SafeGuard is properly working and also verifies a working interface between the SafeGuard, Engine and Monitor.
If you would like to order a SafeGuard please contact us so we can discuss your specific application needs to properly build and program your SafeGuard system:
We offer a thirty day satisfaction guarantee and stand behind our product fully. We are happy to offer technical assistance, should you ever need it [99% of the time it is set-and-forget]. The SafeGuard can be programmed to be swapped between different vehicles. Not only Corvairs, but, for example between a Vair and a GMC truck. There are three mode switches that handle this function. Each car would need an installation kit which is $85.00.